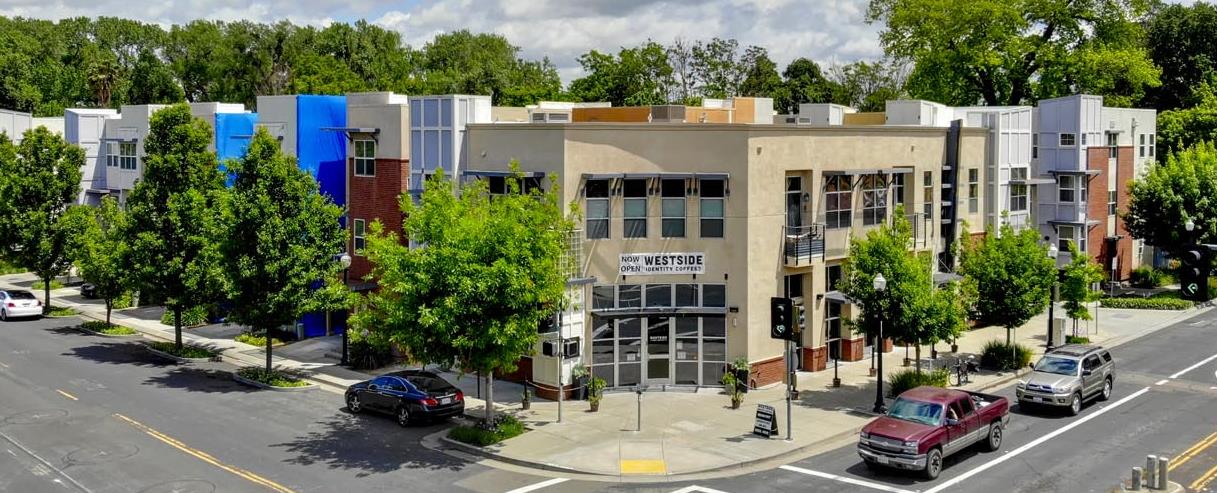 RIVER'S SIDE AT WASHINGTON SQUARE
289 3rd St. West Sacramento CA 95605
River's Side at Washington Square is a mixed use property consisting of 1,969 sq. ft of retail on the 1st floor and 4 apartment units on the second floor totaling 3,850 sq. ft. The building was constructed in 2007 and is 100% occupied. Identity Coffee currently occupies the retail space and is on a 5 year lease. Identity coffee leases 17 parking spots from the owner for additional income. The apartments consist of (2) 2 Bed 1 Bathroom units and (2) Studios. The units come equipped with central heat and air, covered parking, and upgrades throughout. There is on site laundry as well. The property is located across from the I Street Bridge which immediately connects the River's Side at Washington Square to Old Sacramento and Downtown Sacramento. Less than one mile from the subject property is the Golden 1 Center, an indoor arena used by the Sacramento Kings basketball team and Raley Field, which is home to the Sacramento River Cats.
Property is located in an Opportunity Zone
Built in 2007
100% Occupied
West Sacramento is a city in Yolo County, California. The city is separated from Sacramento by the Sacramento River which also separates Sacramento and Yolo counties. It is a fast-growing community; the population was 48,744 at the 2010 census, up from 31,615 at the 2000 census. The traditional industrial center of the region since the Gold Rush era, West Sacramento is home to a diverse economy and is one of the area's top four employment centers. The United States Conference of Mayors named West Sacramento as the Most Livable City in America in 2014 in the category of cities with fewer than 100,000 residents Residents of West Sacramento enjoy an array of activities including Raley Field (affiliate team of SF Giants), The Barn a indoor/outdoor venue, 188-acre Bridge District development, Riverwalk Park, hiking, and biking trails along the Sacramento river. Sacramento is leading the nation in rent growth, and as a result West Sacramento is experiencing the effects of rental growth. Project West near the West Sacramento riverfront, the New Golden 1 Center Arena, and the Railyards project which is one of the largest undeveloped urban sites in the United States will help continue to drive growth.
Copyright © CREOP, LLC. All Rights Reserved.